Skip to Content
Diesel Fuel Delivery Company in Texas & Arkansas
Your Trusted Specialty Fuel Delivery Company
Red River Oil Company is your trusted provider of specialty fuel services and fuel programs designed to accommodate small-scale farms to large industrial operations. We provide tanks in various sizes, and our well-trained and efficient fleet delivers bobtail and transport loads of fuel for a versatile, affordable, and convenient fuel solution that satisfies all of your needs. When looking for a new diesel fuel delivery company, look no further than Red River Oil Company.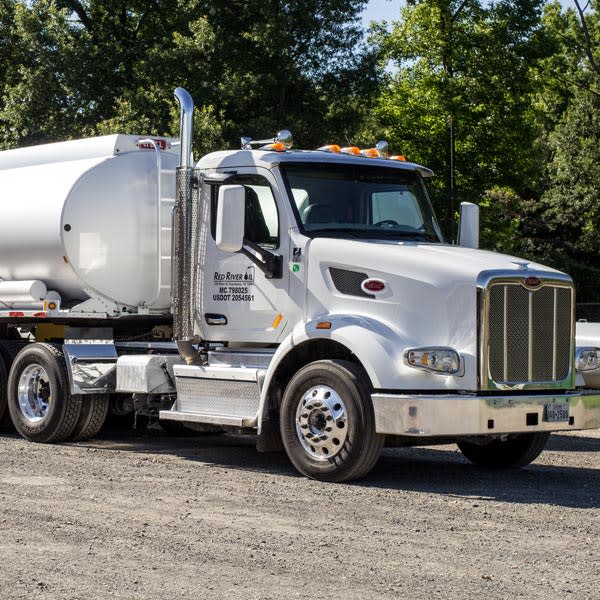 Fuel Management Systems
Our fuel management systems offer your business the latest in advanced fuel monitoring technology, helping you track, control, and oversee your fuel usage to reduce fuel costs and enhance operational efficiency.
Emergency Fuel Tank Rentals
When your business needs a fuel tank in a pinch in the event of an emergency, such as a natural disaster, or during peak season for your operations, Red River Oil Company is your trusted partner in emergency fuel tank rentals. Rely on us to ensure an uninterrupted fuel supply.
Fuel-Additive Packages
Red River Oil Company's fuel additive packages are the key to amplifying the performance and efficiency of your business's fuel usage. Our specialty fuel additives are designed to improve the stability of your fuel while lowering emissions, decreasing corrosion, and more.
Tank Monitoring Systems
Gain exclusive access to your business's fuel inventory levels with real-time tank monitoring facilitated by Red River Oil Company's tank monitoring systems. Discover the convenience of timely replenishment, proactive planning, and a lack of shortages for continuous productivity.
Emergency Bobtail Deliveries
With our reliable emergency bobtail delivery services, you can count on Red River Oil Company during a critical event or unforeseen fuel shortage. Our highly skilled professionals will ensure prompt and safe delivery to your location to promote minimal downtime for your business.
Fuel Testing & Filtration
Red River Oil Company takes great pride in delivering the highest quality specialty fuel to our customers; as such, we take our measures a step further with fuel testing and filtration services that ensure your fuel adheres to the rigorous specifications and standards needed effective performance and the protection of your equipment and materials.
Stamped Meter Tickets
Our professionals ensure a service that checks all the boxes; that's why we provide stamped meter tickets for precise and transparent transactions when you rely on us for your specialty fuel delivery services. We take pride in accountability and want to ensure your bookkeeping needs concerning fuel are as accurate as possible.
One Site Fleet Fueling
Halting operations to fuel your equipment can be time-consuming, so leave the job to us. Our professionals provide on site fleet fueling services where we bring the fuel and materials needed directly to your location to optimize the productivity of your operations while providing you with the fuel you need to maximize efficiency.
Available Loaned Equipment
When your business requires specialty fuel equipment, but you are not in a position to purchase it, or you do not require the equipment for extended periods of time, Red River Oil Company provides equipment loan solutions to accommodate your temporary needs so you can support your operations effectively.
Fueling Facility Design & Construction
If your business is booming and you're looking to incorporate an on-site fueling facility into your location to enhance productivity, allow our professionals to streamline the process with our trusted fueling facility design and construction services. From site selection to engineering, permitting, and beyond, Red River Oil Company is here to ensure your new build exceeds your expectations.
Choose Red River Oil Company
When you need specialty fuel delivery services, you need the experience and dedication of the industry-leading professionals of Red River Oil Company. Backed by over 100 years of combined expertise, our knowledgeable professionals are committed to the safety and satisfaction of our customers, offering solutions that provide unrivaled peace of mind and convenience.
Schedule Your Specialty Fuel Services
When it comes to state-of-the-art specialty fuel services, Red River Oil Company has you covered with a range of solutions that help your business run more smoothly. If you have any questions or concerns or want to schedule your specialty fuel service, contact our friendly professionals.
Contact Us for High-Quality Fuel Services