Skip to Content
Fuel Distributor in Texas & Arkansas
Red River Oil Company: Fueling Your Success
Welcome to Red River Oil Company, your trusted fuel distributor in Texarkana, Texas. As a leading bulk fuel distributor, we pride ourselves on providing top-notch fuel solutions to businesses and industries in the region. With our commitment to exceptional customer service, timely deliveries, and an extensive range of products, you can depend on us for all your fuel needs.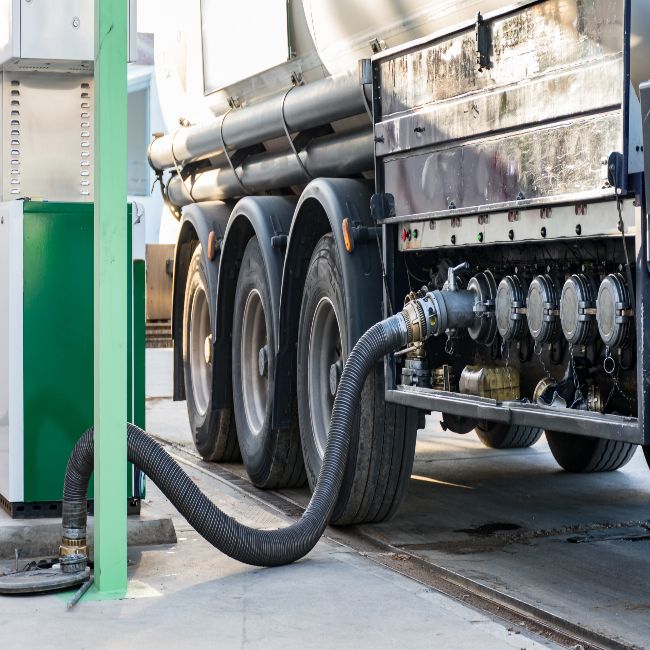 Your Go-To, Full-Service Fuel Provider
As a wholesale fuel distributor, Red River Oil Company offers a wide range of fuel options to cater to your unique requirements. Our comprehensive fuel solutions include:
Diesel Fuel Distribution – We provide both on-road and off-road diesel for various applications, ensuring optimal performance for your equipment and vehicles.
Gasoline Distribution – Our high-quality gasoline products meet the needs of various industries, from transportation to retail and commercial sectors.
Lubricants and Oils – We offer an array of premium lubricants and oils to maintain the efficiency of your equipment and machinery.
Fuel Additives – Our fuel additives help improve fuel efficiency, reduce emissions, and extend the life of your engines.
Fuel Services You Can Trust
At Red River Oil Company, our experienced team ensures that you receive the fuel you need when you need it. When you choose us as your diesel fuel distributor, you can expect the following:
Competitive Pricing – We constantly monitor market trends and adjust our pricing accordingly to offer you the best possible rates.
Timely Deliveries – Our extensive delivery network and modern fleet ensure prompt and efficient fuel deliveries, minimizing downtime for your business.
Accurate Invoicing – Our advanced billing system guarantees precise invoicing, eliminating the risk of discrepancies and disputes.
Safe and Efficient Transportation – We adhere to stringent safety standards and regulations, ensuring your fuel's safe and secure delivery.
Outstanding Customer Support – Our knowledgeable and friendly staff is always ready to address your concerns and provide expert advice on fuel management.
We Offer Bulk Fuel Delivery in Texarkana, Texas
As a bulk fuel delivery specialist, our fleet of modern delivery trucks is equipped with the latest technology to ensure accurate and efficient fuel deliveries. Our delivery services include:
On-Site Fueling – We deliver fuel directly to your job site, eliminating the need to transport it yourself, saving you time and resources.
Mobile Fueling – Our mobile fueling service provides a convenient way to fuel your vehicles and equipment, reducing downtime and increasing productivity.
Emergency Fuel Deliveries – In the event of a fuel shortage or unexpected demand, we offer emergency fuel delivery services to keep your operations running smoothly.
Customized Fuel Management Solutions – We work closely with you to develop tailored fuel management strategies, optimizing your fuel consumption and reducing costs.
Transportation – We supply fuel to trucking companies, public transportation agencies, and other transportation providers.
Construction – Our fuel services support the construction industry by providing the necessary fuel for heavy machinery and equipment.
Agriculture – We help agricultural businesses maintain their equipment and machinery by supplying high-quality fuel and lubricants.
Manufacturing – We ensure that manufacturing facilities have a steady fuel supply to power their operations and maintain efficiency.
Oil and Gas – Our fuel products are used in various oil and gas industry applications, from drilling and production to refining and transportation.
Retail and Commercial – We partner with gas stations, convenience stores, and other retail establishments to provide their customers with a reliable fuel supply.
Your Satisfaction Is Our Priority
At Red River Oil Company, we place great emphasis on customer satisfaction. Our dedicated team works tirelessly to ensure:
Prompt and Reliable Fuel Deliveries – We understand the importance of timely fuel deliveries and work diligently to meet your scheduling needs.
Accurate Invoicing and Transparent Pricing – We pride ourselves on offering fair and competitive pricing while maintaining accuracy in our billing process.
Expert Advice on Fuel Management – Our team of experts is always available to provide guidance on optimizing your fuel usage and reducing costs.
Environmental Commitment
Red River Oil Company continuously invests in technology and training to minimize emissions and waste in our operations. Our commitment to the environment includes the following:
Implementing efficient fuel delivery methods
Offering eco-friendly fuel options and additives
Educating our customers on sustainable fuel practices
Complying with all relevant environmental regulations and standards
Get in Touch for Exceptional Fuel Services
Don't let fuel supply issues disrupt your business operations. Trust Red River Oil Company, the premier bulk fuel distributor in Texarkana, Texas, to provide you with the fuel solutions you need. Contact us to learn more about our services and how we can help your business succeed.
Contact Us for High-Quality Fuel Services